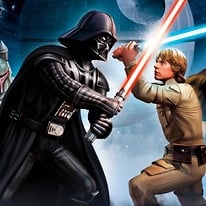 Star Wars: Galaxy of Heroes
106.534 Partite
Come si gioca a Star Wars: Galaxy of Heroes?
Star Wars: Galaxy Heroes è arrivato sul tuo PC pronto a portarti il più emozionante combattimento corpo a corpo in 3D con i tuoi eroi preferiti per sconfiggere il Lato Oscuro prima che sia troppo tardi. Puoi diventare il signore e padrone della galassia con le tue incredibili abilità di Maestro Jedi?
Vivi fantasie incredibili e preparati a creare una squadra d'assalto incredibilmente resiliente, capace di fare strage di qualsiasi cosa sul suo cammino, mentre combatti in una dura battaglia a turni, scegliendo compagni di squadra con abilità uniche che completano le tue. Sviluppa una formidabile strategia di combattimento per reclamare la vittoria in modo da poter investire i tuoi profitti in nuove navi iconiche come il Millennium Falcon, combattere attraverso diverse epoche, far salire di livello i tuoi eroi, sconfiggere boss epici e combattere in luoghi iconici! Solo i fan dell'incredibile mondo di Star Wars sapranno cosa significa pilotare le navi più famose dell'universo e affrontare gli avversari più pericolosi - buona fortuna!
Chi ha creato Star Wars: Galaxy Heroes?
Questo gioco è stato sviluppato da Electronic Arts.
MIRARE

DISPARAR/SELECCIONAR
Minitorneos, chat & make friends
🕹️ Quali sono i giochi simili a Star Wars: Galaxy of Heroes?
❤️ Quali sono le ultime %categorie% simili a Star Wars: Galaxy of Heroes?