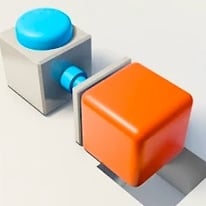 Press to Push
15.830 Partite
Come si gioca a Press to Push?
In Press To Push dovrete mettere alla prova il vostro ingegno! Sarete in grado di utilizzare una serie di pulsanti per controllare piccole piattaforme che possono spingere i cubi al posto giusto. Lo scopo del gioco è molto semplice: osservare attentamente ogni livello e ogni cubo, sviluppare una strategia di pre-gioco e riuscire a muoverli tutti correttamente fino a inserirli nei fori distribuiti sullo schermo nel minor numero possibile di mosse. Con il progredire del gioco, la difficoltà aumenterà, mettendo alla prova la vostra pazienza. Mentre si accumulano monete e punti bonus ad ogni vittoria si può godere di nuove skin che renderanno il vostro gioco molto più divertente e divertente. Godetevi questa divertente sfida mentale 3D con una grafica splendidamente strutturata e molto rilassante!

Giochi
Non ci sono ancora gameplay
Minitorneos, chat & make friends
🕹️ Quali sono i giochi simili a Press to Push?
❤️ Quali sono le ultime %categorie% simili a Press to Push?
🔥 Quali sono i giochi più giocati come Press to Push?