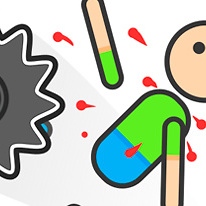 Kill the dummy
29.662 Partite
Come si gioca a Kill the dummy?
Kill the Dummy è arrivato sui nostri computer, pronto a mettere alla prova le nostre abilità di esperti assassini! Siete pronti ad affettare e tagliare centinaia di manichini che sfrecciano da una parte all'altra dello schermo, pronti per essere fatti a pezzi?
Usa armi affilate come rasoi e altamente distruttive evitando di colpire le bombe esplosive che appariranno sullo schermo. Ispirato al classico gioco Ninja Fruit, questa emozionante avventura non ti lascerà indifferente! Lascia che il sangue bagni le pareti dello schermo e non lasciarti ingannare dalle urla di terrore, quante bambole puoi distruggere, segna il punteggio più alto possibile e divertiti!
Giochi
Non ci sono ancora gameplay
Minitorneos, chat & make friends
🕹️ Quali sono i giochi simili a Kill the dummy?
❤️ Quali sono le ultime %categorie% simili a Kill the dummy?
🔥 Quali sono i giochi più giocati come Kill the dummy?