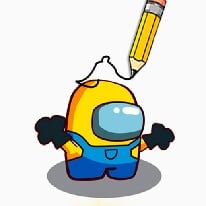 paint the game
427.588 Partite
Come si gioca a paint the game?
Metti alla prova la tua creatività e le tue capacità di disegno in Paint the Game mentre completi ogni livello disegnando ciò che manca in ogni immagine - il tema principale di questo gioco sono i videogiochi più famosi di oggi! Quindi guarda attentamente i personaggi incompleti e gli oggetti mancanti e prendi la tua matita pronta a completarli.
Se ti blocchi e non sai come continuare, in ogni livello puoi ottenere piccoli suggerimenti che ti aiuteranno. Perfeziona la tua creatività artistica in questo gioco di disegno pazzo e goditi il viaggio più emozionante lasciandoti trasportare dalle tue abilità artistiche. Buona fortuna a voi...

Giochi
Non ci sono ancora gameplay
Minitorneos, chat & make friends
🕹️ Quali sono i giochi simili a paint the game?
❤️ Quali sono le ultime %categorie% simili a paint the game?
🔥 Quali sono i giochi più giocati come paint the game?