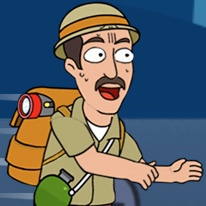 Save the Uncle
18.772 Partite
Come si gioca a Save the Uncle?
Ondate di pericolose creature assassine e innumerevoli trappole mortali hanno circondato lo zio esploratore mettendolo in grave difficoltà. Siete pronti ad aiutarlo a sopravvivere a una pericolosa avventura nel gioco Salva lo zio?
Centinaia di pericolosi ragni giganti, mostri e taglienti trappole mortali si frappongono tra voi e il vostro amato zio, quindi dovete fare tutto ciò che è in vostro potere per liberarlo e portarlo in salvo. Osservate attentamente ogni schermata, rimuovete i perni e le barriere nel posto, nell'ordine e nel tempo giusto e salvate la sua vita da una morte quasi certa! Buona fortuna...
Giochi
Non ci sono ancora gameplay
Minitorneos, chat & make friends
🕹️ Quali sono i giochi simili a Save the Uncle?
❤️ Quali sono le ultime %categorie% simili a Save the Uncle?
🔥 Quali sono i giochi più giocati come Save the Uncle?