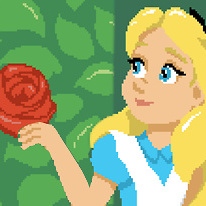 Alice in the Maze
13.557 Partite
Come si gioca a Alice in the Maze?
Aiuta la nostra cara piccola Alice in Alice in the Maze a trovare la via d'uscita da questo labirinto insidioso. Sei pronto ad orientarti e a mettere alla prova la tua pazienza? Cammina lungo ogni corridoio con Alice e prova i biscotti magici che trovi sulla tua strada, con i quali crescerai abbastanza da poter vedere dall'alto il luogo dove è nascosta la porta d'uscita.
Presta molta attenzione a tutti i dettagli e una volta che sei tornato alla tua dimensione normale, vai avanti, trova la chiave magica e raggiungi la porta d'uscita in pochissimo tempo. Vivi l'esperienza più fantastica che tu possa sognare con questa storia ispirata al famoso libro di Lewis Carroll. Buona fortuna!
Giochi
Non ci sono ancora gameplay
Minitorneos, chat & make friends
🕹️ Quali sono i giochi simili a Alice in the Maze?
❤️ Quali sono le ultime %categorie% simili a Alice in the Maze?
🔥 Quali sono i giochi più giocati come Alice in the Maze?